A monthly, sliding scale Reiki clinic serving the East Village in the Sanctuary at the Sixth Street Community Center.

We welcome adults and children of any age to receive a 30-minute Reiki treatment at the price you can pay.
Reiki is a Japanese form of hands-on energy healing that enhances vitality so the body is supported in its natural healing process. It is a wonderful antidote for the stresses and pressures of our modern lives, and can transport you to a deep state of relaxation and peace.
Reiki gently guides your body and soul into harmony, supporting the process of healing for a wide range of ailments, including stress, pain, anxiety, restlessness, fear, depression, grief, trauma, chronic conditions, autoimmune disease, hormonal imbalance, fatigue and more.
Reiki healing can be especially supportive for anyone with mysterious symptoms; those who have not been served by the Western medical model; and for all those whose unique gifts and abilities have been underappreciated by conventional society. This is a loving and nurturing space celebrating the weird and the wonderful.
Reiki is a harmonizing, vital energy that never harms. Also known as "universal life force energy" or "qi," it is directed through the hands of the practitioner to support the body's vital functions, clear toxins and lower vibrations, release harmful thoughts and patterns, and replenish and restore the spirit on all levels.
A Reiki practitioner relies on traditional hand placements to guide the Reiki energy through them, while you remain fully clothed. It's important to distinguish that this energy is not the practitioner's energy, but rather the free flow of universal life force energy transmitted to you to activate your body's own innate healing process. It is often experienced as a gentle heat.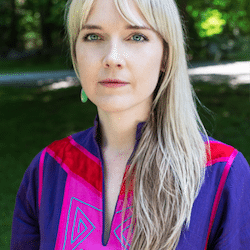 Catherine Foley was first attuned to Reiki in 2014 with Lisa Levine at Maha Rose in Greenpoint, Brooklyn. She completed her Reiki Master training with Joanna Crespo at the New York Open Center School for Holistic and Professional Learning. She currently is continuing her studies with Joanna in a year-long Reiki Master Teacher training. Catherine is an intuitive empath and is skilled at reading and listening to the body to provide the support of Reiki exactly where it is needed. Catherine holds a gentle and compassionate space for your whole self to be seen and attended to so the true nature of the imbalance is addressed, guiding you back to health and well-being on all levels. She is continually amazed at the overwhelming love and profound healing that unfolds from the flow of Reiki energy. Her Irish ancestors lived in tenement housing in the East Village, and this was her first New York neighborhood back in 1999. She is immensely grateful and honored to serve this incredible community.
SANCTUARY REIKI: THE EAST VILLAGE COMMUNITY REIKI CLINIC
FOR ADULTS + CHILDREN
October 25 • November 29 • December 20, 2017
4-9pm
$60-20 sliding scale
Sixth Street Community Center
638 East Sixth Street, 3rd Floor