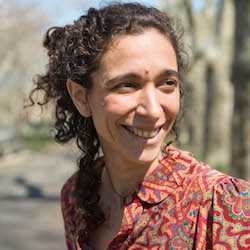 Eva Perrotta, who serves the Help Your Self community on Thursdays, is a Shiatsu and Craniosacral practitioner dedicated to reconnecting you to yourself. With a gentle, noninvasive, hands-on approach, she listens to the needs of the body's tissues and guides them in their natural movement toward healing. In her practice, Eva creates a safe and sacred space for exploration and dialogue with the body and its deep wisdom. Eva is a Registered Somatic Movement Educator and Therapist. She has studied at the School of Body Mind Centering®, the Swedish Institute College of Health and Science, The Upledger Institute and The Barral Institute. She is currently studying a visionary approach to CranioSacral work at the Milne Institute. Eva also has studied extensively the energetics of the Chakras and clairvoyant work with Susan Feinbloom.
FULL MOON CRANIOSACRAL Mini Sessions
Saturday, March 11, 1-5pm
$40
Artwork © Meganne Forbes.