STEPPING ONTO THE PATH
A Three-Day
Initiation
 in the Healing Art of Cosmic Earth Reiki
Cosmic Earth Reiki blends the timeless wisdom of ancient, earth-based spiritual healing traditions with the Japanese, hands-on healing art of Reiki—empowering you to work in deep connection to nature within the practical framework of Reiki as envisioned by Mikao Usui.
In this comprehensive, three-day experiential training, you will be introduced to spiritual techniques and tools that will enhance your intuitive connection with the subtle realms of nature, expand your ability to be a vessel for Reiki energy, and add a powerful dimension of Earth wisdom to your Reiki practice. You will be "attuned" or initiated to the first level of Cosmic Earth Reiki energy—empowering you to use Cosmic Earth Reiki for your own self healing, and for treating friends and family.
Cosmic Earth Reiki is an incredible tool for fostering greater spiritual awareness of the natural world, while harnessing the healing powers of Reiki and Mother Earth to transform deeply and awaken to your true nature. This Level I training will teach you practical ways to integrate Cosmic Earth Reiki into your daily life, and also includes supervised hands-on practice.
In Cosmic Earth Reiki Level I, you will learn:
• Overview of Reiki and earth-based spiritual healing
• Opening to natural healing forces and the elements
• Spiritual journeying and the alternate realms
• Working with the spiritual tools of nature
• Using Cosmic Earth Reiki for self healing
• Cosmic Earth Reiki for friends & family
• Creating sacred space and energy hygiene
You will receive your Level I Certification upon completion of a 14-hour outside practicum.
Prerequisite: Reiki I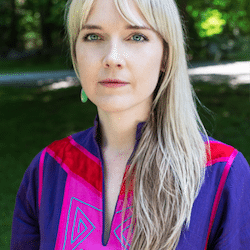 Catherine Foley is a Usui Reiki Master Teacher, Shamanic Reiki Master Teacher and founder of Help Your Self, her holistic wellness company on a mission to bring authentic and genuine healing experiences and resources to New Yorkers. Catherine was attuned to Reiki Levels I and II with Lisa Levine at Maha Rose in Greenpoint, Brooklyn. She became a Reiki Master with Joanna Yuan Crespo at New York Open Center, where she also completed her Reiki Master Teacher apprenticeship. Catherine completed a year-long Shamanic Reiki Master Teacher training with Llyn Roberts, and is currently in progress to complete a two-year teacher training with Sandra Ingerman. With formal training in energetic and earth-based spiritual healing, mindfulness and herbal medicine, Catherine is skilled in holding integrated, embodied and compassionate space for deep transformation and healing. Catherine offers Reiki healing at locations around the city, including The Spa at Mandarin Oriental, New York. She is an oracle reader at Otherwild NY, The Alchemist's Kitchen and Jill Lindsey. In all of her work, Catherine is dedicated to guiding you home to yourself, helping you access your innate ability to heal your life and find the freedom and will to shine your true light in the world.